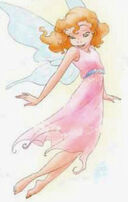 New
Never fairies
arrive
at
Pixie Hollow
wearing an arrival garment, which is made from stray bits of laughter left over after the laugh explodes into a fairy.
[1]
In the
Tinker Bell
film,
Tinker Bell
's arrival garment was made from the dandelion seed that carried her laugh to
Never Land
.
In the Realm of the Never Fairies: The Secret World of Pixie Hollow describes arrival garments as "fragile," as they are made from "delicately woven strands of laughter." An illustration on the same page shows a fairy in a simple pink strap dress gathered at the waist by a purple band. The same illustration is used in The Hidden World of Fairies to depict a newly-Arrived fairy.
In contrast to this, the illustrations of Fairy Dust and the Quest for the Egg depict Prilla's arrival garment as the same outfit she usually wears - a pink dress with a leaf overskirt, a green hat, and green leaf shoes.
References
Ad blocker interference detected!
Wikia is a free-to-use site that makes money from advertising. We have a modified experience for viewers using ad blockers

Wikia is not accessible if you've made further modifications. Remove the custom ad blocker rule(s) and the page will load as expected.