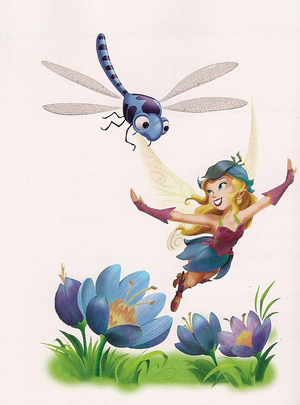 Bluebell is a garden fairy. She has pale blue eyes and long blonde hair. In the books, she is illustrated as an average-sized fairy, wearing a blue and purple outfit. She's one of the most cheerful garden fairies in Pixie Hollow. Her wings flutter as fast as those of the bumblebees in her garden. Her favorite flowers are crocuses, because they're the first to bloom in spring and they grow quickly. Bluebell is so exitable that her friends often ask her to slow down when she talks otherwise they're not able to understand her. She likes to fly with Lester, her dragonfly pal.
Appearances
Fairy Flora
Welcome to Pixie Hollow
Ad blocker interference detected!
Wikia is a free-to-use site that makes money from advertising. We have a modified experience for viewers using ad blockers

Wikia is not accessible if you've made further modifications. Remove the custom ad blocker rule(s) and the page will load as expected.