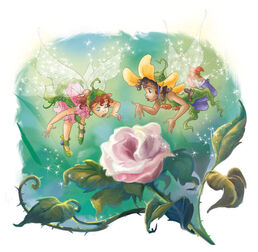 The Fairy Pink rosebush is a kind of rosebush that looks similar to the ones on the Mainland. Only one exists in Pixie Hollow, and one grows each year in Lily's garden. When they bloom, a heart seed can be found in the middle of the flower.
The heart seed is the most delicious tidbit in Pixie Hollow, it is always given to Mother Dove to thank her.[1]
References
Ad blocker interference detected!
Wikia is a free-to-use site that makes money from advertising. We have a modified experience for viewers using ad blockers

Wikia is not accessible if you've made further modifications. Remove the custom ad blocker rule(s) and the page will load as expected.