This is Fern the book character for Fern the movie character, see Fern.
Fern
is a
dusting-talent fairy
and a minor character who appears in a few books. She is usally seen wearing a pale blue and yellow dress and hat with brown hair and blue eyes.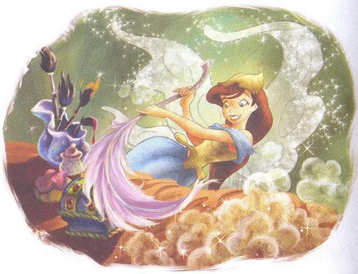 In the books
In A Masterpiece for Bess, she requests a portrait of herself from Bess. She seems to have a compulsive dusting disorder, for she can't resist dusting everything in Bess's studio when she is supposed to be posing for the portrait.

She is seen briefly in Four Clues for Rani, standing next to Spinner who might've been her partner for the Fairy Treasure Hunt.
Appearances
Ad blocker interference detected!
Wikia is a free-to-use site that makes money from advertising. We have a modified experience for viewers using ad blockers

Wikia is not accessible if you've made further modifications. Remove the custom ad blocker rule(s) and the page will load as expected.