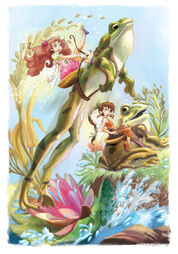 Frog-riding
is a game enjoyed mostly by
animal-talent
fairies. Other fairies may also ride too, but it is considerably harder for them to control the frogs, since they can't communicate with them. Just like as humans do to horses, the fairies saddle up the frogs.
Ad blocker interference detected!
Wikia is a free-to-use site that makes money from advertising. We have a modified experience for viewers using ad blockers

Wikia is not accessible if you've made further modifications. Remove the custom ad blocker rule(s) and the page will load as expected.