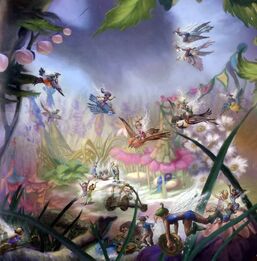 Every few seasons, all the fairies in Pixie Hollow come together for the Great Games Day. On this day, fairies compete against other members of their talent group in specialized games. Events include the Potato Heft, the Carrot Toss (much like a javelin contest), Swift Diving, Leapfrog Races, Water Skating (in which water-talent fairies gracefully glide over the surfaces of still ponds or puddles), and a Fast-Flying Race. Since fairies dislike being bound by rules, they often make them up as they go along.[1]
Events
References
Ad blocker interference detected!
Wikia is a free-to-use site that makes money from advertising. We have a modified experience for viewers using ad blockers

Wikia is not accessible if you've made further modifications. Remove the custom ad blocker rule(s) and the page will load as expected.