Griffiths's Cottage 
is a country house that 
Lizzy Griffiths
and
Martin Griffiths
were spending the summer holidays. It is in close proximity of London and near the meadow where the
Fairy Camp
is located.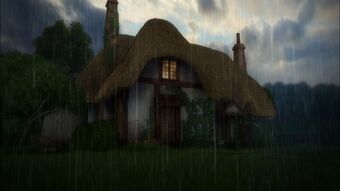 Appearances
Lizzy and her father go to his cottage to spend the summer holidays while Lizzy builds a fairy house and once it is done, leaves the meadow, leaving Tinker Bell and Vidia to find the fairy house, Vidia gets trapped in the house and Lizzy unluckily spots her. But later on Tinker Bell builds a great friendship with Lizzy. Later, they build up a research diary telling everything about all of the fairies in Pixie Hollow. Lizzy tries to show the diary to her father, but he does not listen, only for him to repair the leaks later. However, Tinker Bell repairs them instead. Once in the kitchen, Iridessa, Silvermist, Clank, Bobble, Fawn, Rosetta and Vidia try to rescue Tinker Bell, being hampered by Mr. Twitches. The house is seen in the final scenes of the film, in the meadow with Lizzy and her father having tea with the fairies.
Ad blocker interference detected!
Wikia is a free-to-use site that makes money from advertising. We have a modified experience for viewers using ad blockers

Wikia is not accessible if you've made further modifications. Remove the custom ad blocker rule(s) and the page will load as expected.