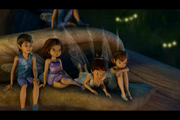 Hydrangea
Hydrangea is a water talent fairy. Even though one of her most notable appearances are within the Disney Fairies: Tinker Bell and the Lost Treasure Nintendo DS video game, she does appear alongside Silvermist and some of the other water-talent fairies during Tinker Bell's arrival ceremony in the first Tinker Bell movie. She also makes a few appearances in some of the books. Hydrangea always wears blue eye shadow.
Ad blocker interference detected!
Wikia is a free-to-use site that makes money from advertising. We have a modified experience for viewers using ad blockers

Wikia is not accessible if you've made further modifications. Remove the custom ad blocker rule(s) and the page will load as expected.