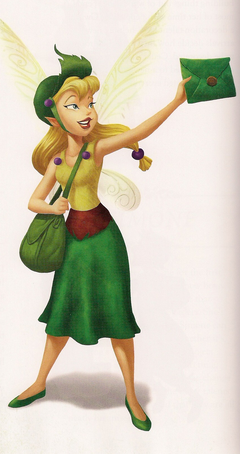 Message-talent fairies are the messengers of Pixie Hollow. They send important messages to the fairies, some message-talents just send messages from Queen Clarion.  This is a sub-talent of Fast-flying-talent.
Clothes
Mostly reds and yellows. Females wear dresses with a swirl symbol of a messenger on the chest. Normally wear medium length or long pants underneath.
Hair
The female fairies wear their hair up in a pony tail, but occasionally have their hair down. Their hair colors are usu
Living
A branch on the Pixie Dust Tree
Known Message-talent fairies
Ad blocker interference detected!
Wikia is a free-to-use site that makes money from advertising. We have a modified experience for viewers using ad blockers

Wikia is not accessible if you've made further modifications. Remove the custom ad blocker rule(s) and the page will load as expected.