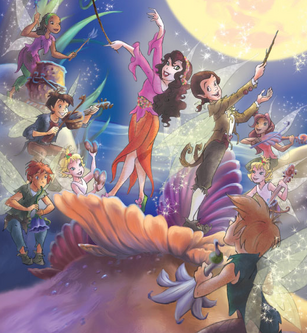 This is a sub-talent of Storytelling-talent. Music-talent fairies play music in the Fairy Tale Theatre and when Queen Clarion arrives to a place. Percussionists play drums made from hollowed-out minipumpkins. Wind instruments include shell horns, reed-grass flutes, and trumpet flowers. A chirping chorus of crickets, led by the cricket-whistling-talent fairies, often accompanies the musicians.[1]
Wardrobe & Appearance
Their outfits vary in color and style, though they often comprise of simple tops, skirts, and/or leggings. Cleff, on the other hand, is shown wearing an old-fashioned suit with a tailed coat, cravat, cummerbund, breeches, and stockings.
Known Music Talent Fairies
References
Ad blocker interference detected!
Wikia is a free-to-use site that makes money from advertising. We have a modified experience for viewers using ad blockers

Wikia is not accessible if you've made further modifications. Remove the custom ad blocker rule(s) and the page will load as expected.