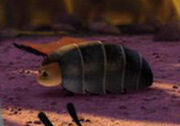 Pillbugs (sometimes called Roly Polys) are small, land-dwelling crustaceans with hard shells that roll up into a "pill" when threatened. They are completely harmless. In Tinker Bell and the Lost Treasure, pillbugs and some other bugs helped Tinker Bell find the stone arch.
Known Pillbugs
Ad blocker interference detected!
Wikia is a free-to-use site that makes money from advertising. We have a modified experience for viewers using ad blockers

Wikia is not accessible if you've made further modifications. Remove the custom ad blocker rule(s) and the page will load as expected.