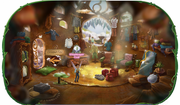 Sewing-talent
fairies create new styles for the fairies of
Pixie Hollow
. They work with the
measuring fairies
to create the perfect fit.
Clothing
Mostly browns and reds. Most female fairies normally wear skirts, sleeveless tops, and a hat made from a Lost Boy's lost button.
Hair
Normally reds, but sometimes blonde. Female fairies wear their hair in a low ponytail, but some have their hair down and flowing.
Living
Autumn Forest
Known Sewing-Talent Fairies
Ad blocker interference detected!
Wikia is a free-to-use site that makes money from advertising. We have a modified experience for viewers using ad blockers

Wikia is not accessible if you've made further modifications. Remove the custom ad blocker rule(s) and the page will load as expected.