Sweet Pea

Gender

Female

Species

Talent

Best friends
Sweet Pea is a Garden-talent who appears in the Pixie Hollow Online, but had a cameo appearance in The Pirate Fairy. She is part of the Never Council and is in charge of announcing all the special events and contests. Her best friends are Marina and Tabby. Her favorite color is probably pink because she always wears a cute pink dress.  She is well known by having a Hidden Mickey in her necklace.
Appearances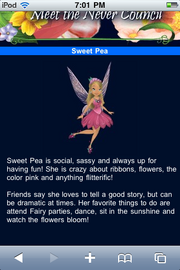 Gallery
Ad blocker interference detected!
Wikia is a free-to-use site that makes money from advertising. We have a modified experience for viewers using ad blockers

Wikia is not accessible if you've made further modifications. Remove the custom ad blocker rule(s) and the page will load as expected.