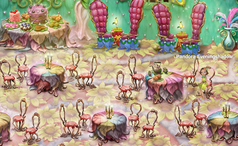 The Tearoom is located in the Home Tree in Pixie Hollow. Similar to a cafeteria or cafe, it is where the fairies and sparrow men of the Hollow have their meals.
According to the books, the walls are papered in pale Never grass and covered in paintings of various objects. The floor is always carpeted in fresh flowers. The tearoom is full of round tables with petal tablecloths in colors such as pastel yellow, pink, and blue. Each talent has their own table, which they usually sit at with other members of their talent guild, though they are allowed to sit at other tables. (Prilla, whose talent is one of a kind, sits at a different table every night. [1])
Food in the tearoom is provided by Dulcie and the other kitchen-talent fairies, whose kitchen is right next door. Meals are served three times a day - for breakfast, lunch, and dinner. Food is left out a while after the meals but is soon cleared by the server-talent and celebration-setup-talent fairies,[2] so fairies need to make sure to get to meals on time. There is usually a menu that lists the options for the current meal before it is served.
Notes and references
↑

The Trouble With Tink

↑

Vidia and the Fairy Crown
Ad blocker interference detected!
Wikia is a free-to-use site that makes money from advertising. We have a modified experience for viewers using ad blockers

Wikia is not accessible if you've made further modifications. Remove the custom ad blocker rule(s) and the page will load as expected.