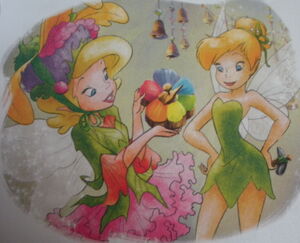 Trindle is a sewing-talent fairy who appears in the book Tink in a Fairy Fix.
In the book, Trindle has a problem, she can never decide on what to wear! So everyday she puts on anything in her closet that she can get her hands on. Until one day she hears that Tinker Bell can fix fairies. So she flies to Tink's workshop and asks for help. Tinker Bell creates a color wheel for Trindle. This is how the color wheel works, you spin the arrow on the wheel and whichever color it lands on is the color clothing the Trindle would wear for the day. Trindle walks away happily with her new color wheel and informs everyone that Tinker Bell can fix fairies! Soon all the fairies start coming to Tink for help. Trindle is seen in the middle and at the end of the book in clothes that match.
Trindle is very beautiful. Her hair is in a short, blond bob. She has blue eyes and pointy ears.
Ad blocker interference detected!
Wikia is a free-to-use site that makes money from advertising. We have a modified experience for viewers using ad blockers

Wikia is not accessible if you've made further modifications. Remove the custom ad blocker rule(s) and the page will load as expected.