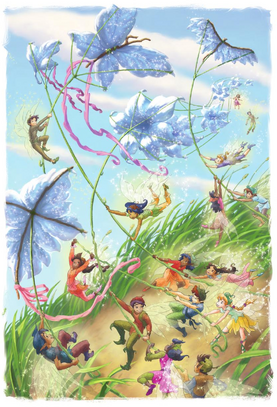 "When the woolly bear's coat is thick and gold, Come the days of wind of cold.
With dewdrops on the grass,
Rain will never come to pass.
Cold is the night,
When the stars shine bright.
If birds fly low,
Rain will fall and winds will blow.
When the ladybugs swarm,
The day will be warm." - Weather-Fairy Wisdom
Weather-talent fairies appear to be the meteorologists of Pixie Hollow. They use kites on breezy days to ascertain information about the weather, which they put down in notebooks using a variety of nature-related symbols.[1] The weather-talents set up a place at the far end of the field where some weather-talents made charts and graphs, about the direction and speed of the wind.[2]

In Queen Clarion's Secret, one of the most windiest days they had had in years was caused by the Sky Bird.
Sub-talents
Known Weather-talent fairies
References
Ad blocker interference detected!
Wikia is a free-to-use site that makes money from advertising. We have a modified experience for viewers using ad blockers

Wikia is not accessible if you've made further modifications. Remove the custom ad blocker rule(s) and the page will load as expected.